Weddington Adoption Attorney
The path to securing and finalizing an adoption can be challenging, with many obstacles. The adoption process is wrought with paperwork, deadlines, and requirements that are often confusing and overwhelming for those going through the process. Without a clear understanding of the law and what to expect, it is easy for things to quickly become complicated and turn what should be a joyful experience into unnecessary stress and anxiety. However, with the legal support of knowledgeable and experienced adoption attorneys, the process can be much smoother and far less stressful.
At Lehnhardt Price Family Law, our team of compassionate and experienced child adoption attorneys has assisted adoptive families with all aspects of the process for many years under family law. We understand the importance of this life-changing event and will work diligently to ensure that everything is handled quickly, efficiently, and in accordance with the law. We will also provide you with the support and guidance you need every step of the way to maximize a positive experience for everyone involved. If you are ready to start the adoption process or have questions about any aspect of it, please contact our office at your earliest convenience.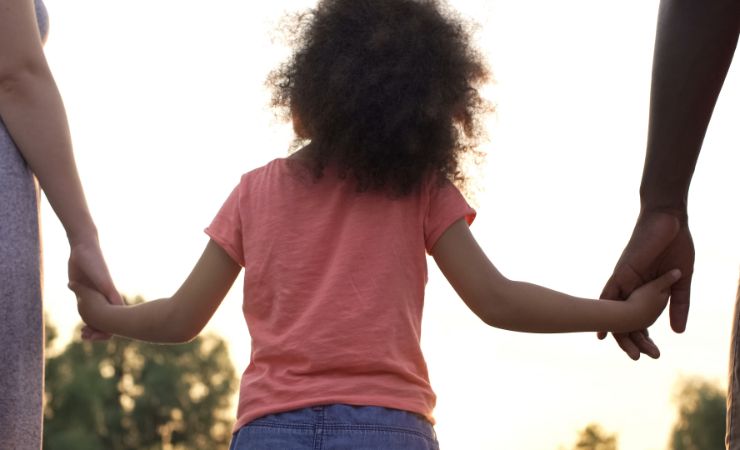 The Adoption Process
Adoption is the legal process of creating a parent-child relationship between someone who is not the child's biological parent. Once the process is finished, the adoptive parents will have all the same rights and responsibilities as any other parent-child relationship with formal child custody. This includes the power to make decisions about the child's education, healthcare, child support, and general welfare.
Different Types of Adoption
There are several different types of adoption, each with its own requirements and procedures. The type of adoption you pursue will depend on your circumstances and what best meets the child's needs.
First, you must decide if you will be engaged in an open or closed adoption. Open adoptions allow for some level of communication between the adoptive family. This scenario works best for all parties if the birth mother is comfortable with maintaining some form of contact with her child after placement. This can be done through the exchange of letters, emails, or even visits. A closed adoption means no communication between the parties after placement and is generally considered a more traditional approach.
There are also different types of adoption placement, including:
Agency Adoption: Adoption placement through a state-licensed child welfare agency. The agency will provide counseling and support services to the birth parents and the adoptive parents throughout the process.
Independent Adoption: Adoption placement is arranged privately between the birth parents and the adoptive parents without going through a child welfare agency.
Foster Care Adoption: Adoption of a child in the foster care system.
Requirements For Adopting a Child in North Carolina
To adopt a child in Weddington, North Carolina, you have to be a minimum of 18 years of age and a state resident. You will also need to complete a mandatory adoption home study, which includes a criminal background check, financial assessment, and home inspection. The home study is intended to ensure that you can provide a safe and stable environment for the child. Despite the popular myths, you do not need to be married or in a relationship to adopt a child. Single people are eligible to adopt as well, given they can prove they can provide a child with the love and attention they need and a stable home and financial support.
If you are pursuing an agency adoption, the requirements will vary depending on the agency you are working with. However, most agencies require that you complete orientation, education classes, and a training period before you can be approved to adopt. If you are pursuing an independent adoption, you will need to find a licensed adoption attorney to help you navigate the process. The attorney will help you locate a birth mother and complete the necessary paperwork.
FAQ About Weddington, NC Adoption Law
How Much Does Adoption Cost in North Carolina?
The cost of adoption varies depending on the type of adoption you pursue and any additional costs associated with the home study and placement. Agency adoptions tend to be the most expensive, while foster care and independent adoptions are generally less costly. The best way to assess the cost of adoption is to speak with a licensed adoption attorney or child welfare agency to get an estimate to better understand what you can expect to pay.
How Long Does It Take to Adopt a Child in North Carolina?
The amount of time it takes to adopt a child in NC varies depending on the type of adoption you pursue. Agency adoptions can take anywhere from 6 months to a year or more. Independent adoptions take less time, generally 4-6 months, but can sometimes take longer, depending on the situation. Factors that can extend the time it takes to adopt include the child's age, special needs, and whether or not the birth parents are involved in the process.
What Will Disqualify You from Adopting a Child?
The main factor that will disqualify you from adopting a child is a criminal history that includes violence, abuse, or neglect. Other factors that could disqualify you from adopting include financial instability, mental health issues, and drug abuse. These are all designed to ensure that the child will be placed in a safe and stable environment.
Can I Adopt if I'm in Debt?
While debt does not automatically disqualify you from adopting, it is something that will be considered as part of the home study process. The home study assessors will want to ensure that you can provide for the child financially and that your debt does not put the child at risk. It will be assessed on a case-by-case basis.
Contact Lehnhardt Price Family Law Today
If you are interested in pursuing adoption, the first step is to contact an experienced adoption attorney. At Lehnhardt Price Family Law, we have helped countless families navigate the adoption process, and we would be happy to do the same for you. Our initial consultation will get you started and help you better understand the process. Contact us today to schedule a time to meet with our team. We look forward to helping you start your family.